euro 2020 at poolfoot farm - book now
Tickets for all three England Euro 2020 games across our superb indoor, outdoor and beer garden areas are now on sale. 
Book below one of our food and drink packages to watch across our 20 large TV's and giant outdoor screen.
England vs ITALY
FINAL - ITS COMING HOME
SUNDAY 11TH JULY | 20:00 KO
BOOK AT TABLE - BEER GARDEN 1,2 & 3
Table of 8
£
80
Per Table of 8
Bucket of bottle beers per table

NO FOOD INCLUED - CAN BE PURCHASED ON SITE
BOOK AT TABLE - THE TERRACE, PITCHSIDE & THE BAR
Table of 6
£
60
Per Table of 6
Bucket of bottle beers per table

NO FOOD INCLUDED - CAN BE PURCHASED ON SITE
Table of 4
£
40
Per Table of 4
Bucket of bottle beers per table​

NO FOOD INCLUDED - CAN BE PURCHASED ON SITE​
Looking for somewhere to watch england in euros 2020?
There will be nowhere bigger and better to watch England's bid for Euro 2020 glory than at Poolfoot Farm. FTFC's state-of-the-art community sports complex is showing every game from Euro 2020, and not only inside the stunning Pizza Calcio The Bar, Pitchside and The Terrance but also outdoors in The Poolfoot Beer Garden.
This means football fans can relax in the sunshine and watch the live action on what will be the biggest outdoor screens anywhere on the Fylde coast.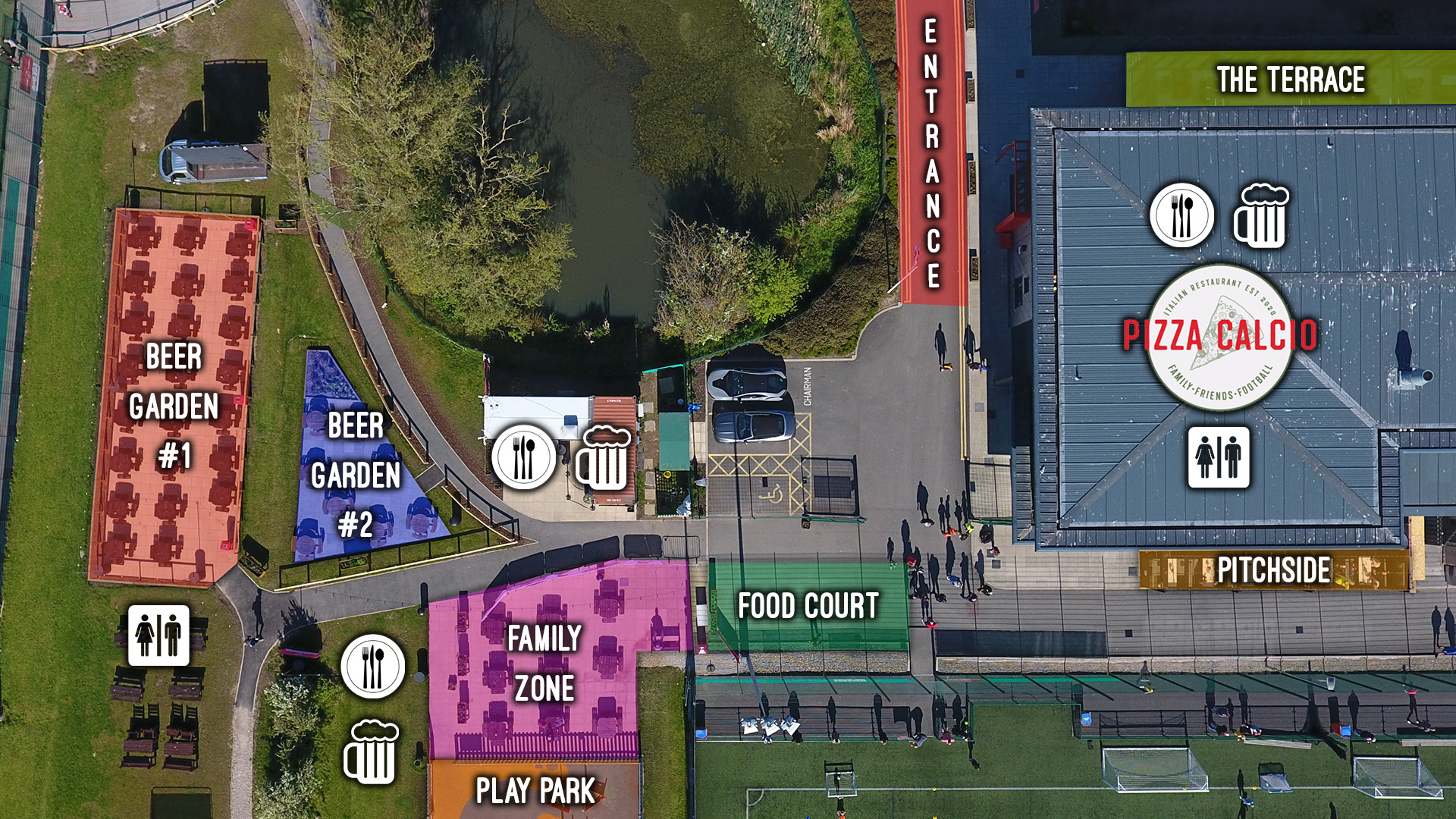 THE TERRACE
@ Pizza Calcio
THE BEER GARDEN
@ poolfoot farm
Key euro 2020 information when booking at poolfoot farm
that's it. see you in IN THE QUATER FINALS
Key euro 2020 terms & conditions when booking at poolfoot farm
Euro 2020 Terms and Conditions
The Terms and Conditions upon which this ticket is issued by Poolfoot Farm are set out below. The acceptance of this ticket shall constitute acceptance by the ticket holder of these Terms and Conditions. A breach of these Terms and Conditions shall render the ticket void and all rights conferred or evidenced by it shall be nullified.
Poolfoot Farm reserves the right in its sole discretion, to refuse admission to the ticket holder to the event or any part of the event, to remove the ticket holder from the event or to direct the ticket holder to another part of the event.
Entry into the event will be authorised on an event day only upon the presentation of a valid ticket by each ticket holder seeking to gain entrance. Individuals who have been banned from attending events by competent authorities or who are considered as a security risk, are prohibited from entering or remaining in the event. On entering the events, the ticket holder agrees to abide by event regulations at all times.
The instructions of Management, Security & Stewards must be obeyed at all times, ticket holders must truthfully answer any question concerning a ticket from a steward or member of Management and ticket holders agree to be searched by a member of the relevant security staff.
If the ticket holder is refused admission or removed, no money shall be refunded.
Should the event be abandoned or postponed, no entitlements to refund shall arise. If the event is subsequently rescheduled, this ticket shall be valid for the later date unless otherwise advised by Poolfoot Farm.
A ticket is non-refundable and non-transferable.
This ticket is only valid for the section of the event printed on it.